This album was recorded in 5 days in May 2022. During my Covid illness I decided on certain things I had to have done before it was too late, and one of them was, that I had to have read Joyce's Ulysses (and Moby Dick as well). Knowing that this novel was a challenge to almost everybody I gave it a try, and yes, it is a most unusual book. When it was too hard, I started reading it up loud, and it helped. Joyce is handling words and sounds as if it was music, re-inventing the language – and it was great fun to read. But it was not until I suddenly read about the World's 12 Worst Books in chapter 15, complete with titles, that I found my way in to the music.
I used my experiences from the preceding Absolute Danstrup album and wrote music to fit a variety of musicians, just as the books are very different as well. 9 out of 12 compositions use the rhythm in the title as the basic rhythm in the tune; only Loveletters, Infant's Compendium and Canvasser's deviate from this. The lyrics was (again) a challenge, this time even more, and I had to somehow decode the titles and start freewheeling. I hope Joyce will forgive me….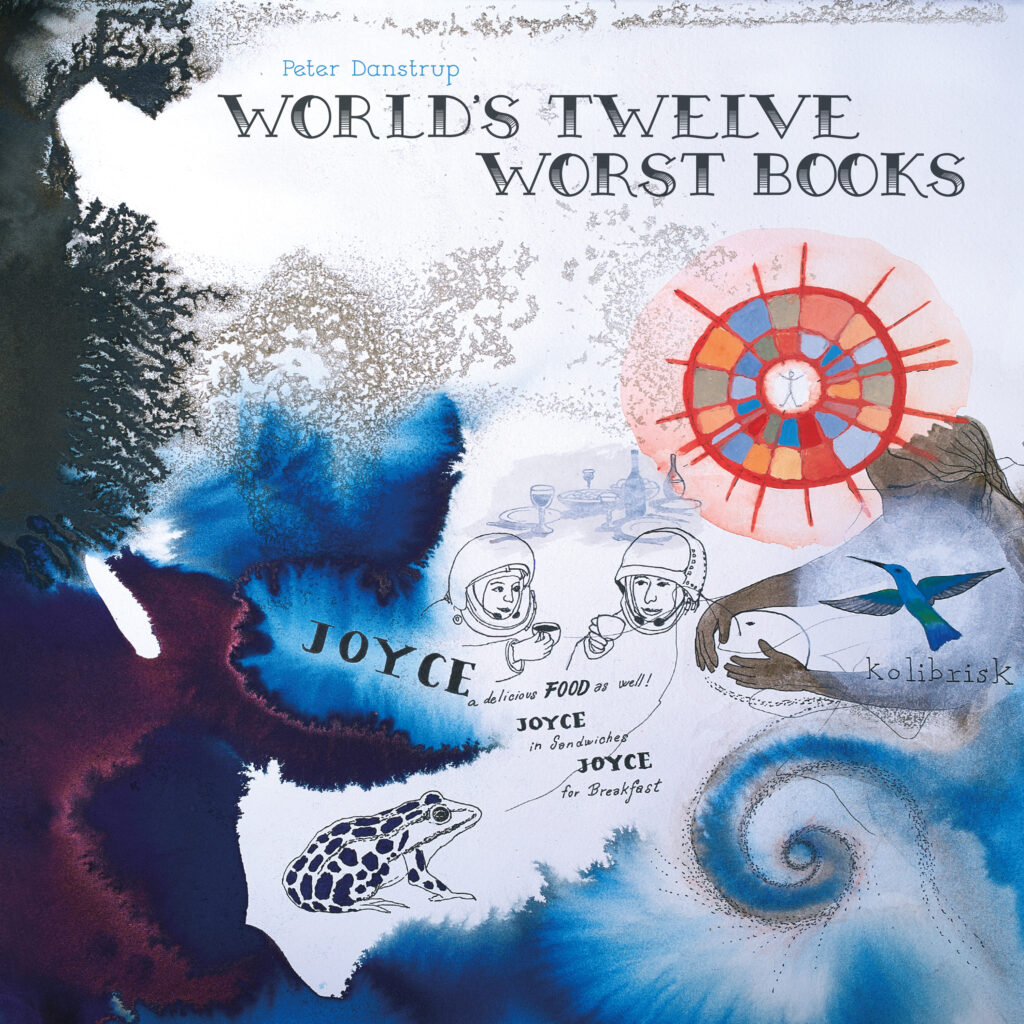 The Tunes
Expel That Pain (medic)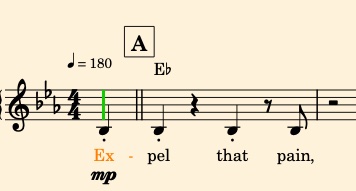 The thought of rejecting a pain reminds me of situations where you have to pluck up courage even though you are in pain, scared or just not ready. It could be in your childhood or in situations where you just have to be 'brave'. I have been in situations like that a lot lately… Sung by Nina Baun and Michael Rexen this song is orchestrated with horns and percussion to give it speed and a speck of irony. Nina and I had a wonderful time doing the 'ouch-track' afterwards. The 'ouch credits' on the record cover are by the way wrongly mentioned after Let's All Chortle.
50 Meals For 7/6 (culinic)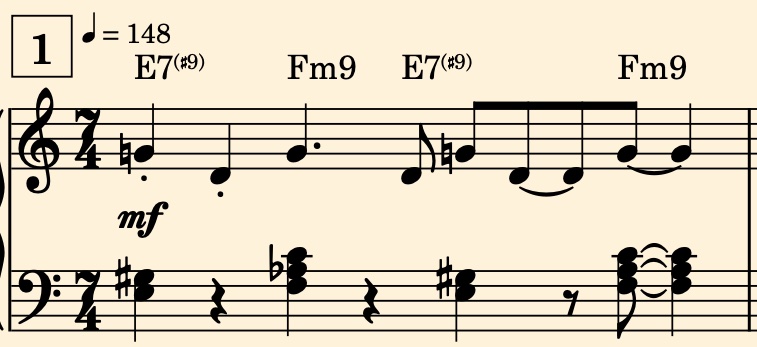 Originally, my plan was to make 50 variations of the basic rhythm and melody in order to fully live up the title. I had to settle with 31. The 5 musicians in the wind player section all have their solo presentations and of course the meter is 7/4 most of the time. Enjoy the fiercely solo work of trumpeter Kasper Tranberg.
Pennywise's Way To Wealth (parismonic)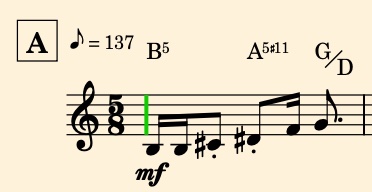 Rhythmically a somewhat complex composition, basically a 5/8 but also 3/8, 6/8 and 7/8, this tune shows the potential of a very interesting quartet with guitar, marimba, bass and drums. We had a couple of tunes with this group on Absolute Danstrup as well, and it has a very nice Captain Beefheart-vibe.
Was Jesus a Sun Myth? (historic)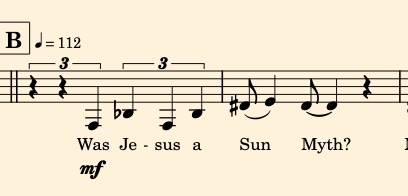 Vocals, reeds and mystery are the main ingrediencies here. Baun and Rexen are exponents of a conspiracy theory about Jesus, pyramids, ancient Egypt and so on, and I tried to add some ambiguity and obscurity to make it even more tangled. But how did the music of ancient Egypt really sound? Nobody knows, but it could be like this sandy, tango-ish tune…
Let's All Chortle (hilaric)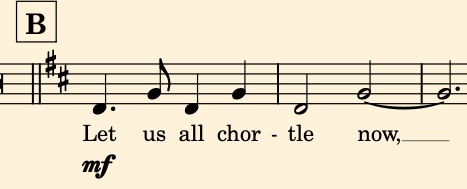 This is sung by Nina Baun, here and there in duet with herself. There are many kinds of laughs, not all of them with a wink of an eye, and I try to get around most of them here. I've put it in a lively ¾ context and have the brassy horn section back up Anders Banke's improvisations.
Care Of The Baby (infantilic)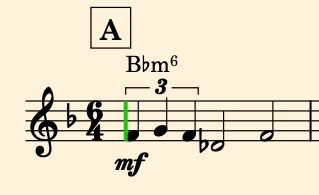 This piece has a lot of subtitles in the score: the importance of upbringing, the careful nursing, the everyday problems of minor importance, the pure happiness, the communicating baby, gifted and skilful, the everyday annoyances, the importance of a daily routine, disturbance – a genuine feeling, the natural authority of the man in the house. Maybe you can find out where they fit in? Here we have a pure brass section and bass and drums
Loveletters of Mother Assistant (erotic)
A slow 6/8 feel to a song about a woman in love. We don't know with who – is it a doctor, another mother assistant, a secret lover? Nina Baun is the lovesick midwife, Kasper Tranberg the lonely trumpet, Per Gade plays a slow tremolo guitar on top of Ole Rømer's drums and my bass, this time including a minute long Bass solo. If you check out the video, you will see how Nina and Kasper react to it. The idea of talking and singing never really turned me on when I was younger, but now I had great fun working with the possibilities with this effect.
Froggy And Fritz (politic)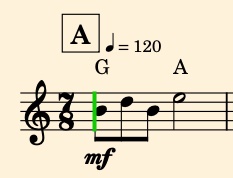 The title might refer to Englishmen and Germans, it could also be two politicians (and they could still be English and German) – it is hard to know. Written mainly in a 7/8 rhythm it has a small horn arrangement and a free percussion part, performed by Rune Lohse
Who's Who In Space (astric)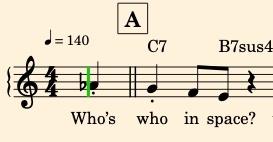 In this case I have brought the story up to date and set the scene for the present space race. Joyce did not know anything about that, he might have thought of something completely different. But the fact that the Space is getting crowded around our planet is an issue of great importance, all the super powers will have their own space stations, spy satellites, tracking systems etc. The idea of the double time section is inspired by Hermeto Pascoal, who uses this feature effectively in some of his works.
Infant's Compendium Of The Universe (cosmic)
Yet another space story. Here I have taken Strauss' Also Sprach Zarathustra and used it as a stepping stone for the large wind ensemble and a 3-man percussion section. Note that engineer Thomas Vang plays the bass – I am busy conducting all 11 musicians.
Canvasser's Vade Mecum (journalic)
I read the word canvasser as a door salesman, the profession of the hero of the novel, Leopold Bloom. And I thought that he might not have been that successful and therefore needed a vade mecum, a manual. It also explains the somewhat sad vibe of the piece.
Songs That Reached Our Hearts (melodic)

Well, we all have songs that are special to us, maybe from our childhood, maybe heard in a very important context, or even songs that invades your head and won't leave you. I've tried to make this final song as pompous and pretentious as possible and added a toy piano to give contrast