This album was recorded in 8 days in March 2021. 24 musicians and vocalists participated and the setting was – as always – Thomas Vang's beautiful studio called the Village. It was during the pandemic, and there was a lot of logistic issues on top of the basic question for me: would this work? Could we do this without rehearsals and believe the written material and the musician's abilities and mastery to interpret it? I think the result is convincing and by far better than I could dream of.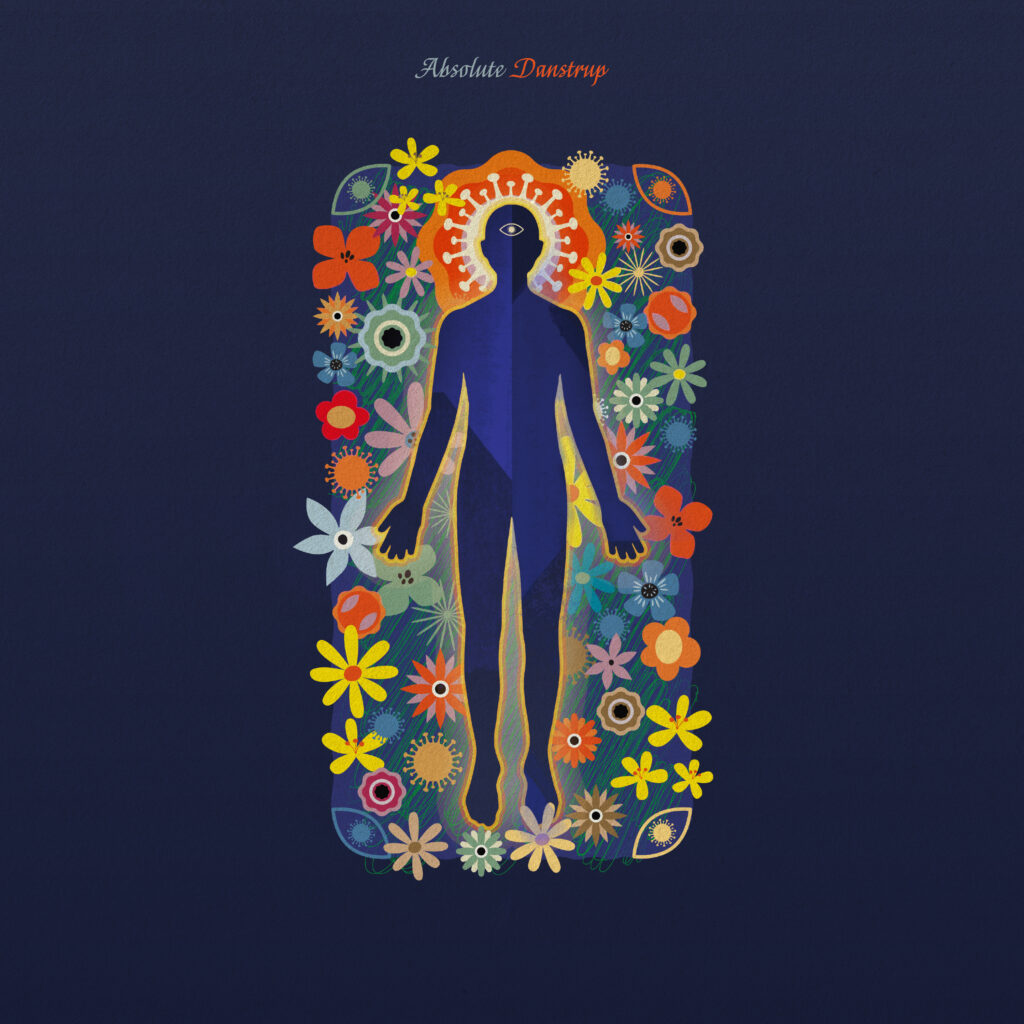 The tunes
Jesus Gonna Make Up My Dying Bed
I have selected this song to be the opener and also released it as a single on Spotify. It tells the story of my Covid illness at the hospital and applies to some of the music I listened to during my month in a hospital bed. One of the strongest tunes was Charlie Patton's Jesus is a Dying-bed maker, and the lyrics are inspired be the original song. It is an odd meter bluesy tune – slow 5/4 – and incredibly executed by the musicians, Michael Rexen and Per Gade in particular.
Covidiously Speaking
Also in and odd meter setting – 5/8 and 7/8 – this tune serves as a vehicle for Anders Bankes colourful bass clarinet playing in a context with marimba, bass and guitar along with the handclaps, maracas and timbales of master musician Jacob Andersen. Little did we know that he would pass away shortly after, making this his final studio recording. Jacob has been a close friend of mine since the beginning of the 1980ies and is truly one of the greatest musicians I have ever played with.
(I Wish I Was An) American
I cannot deny that some of my compositions has a tendency towards the musical genre. It has been the case for some time and singer Nina Baun has often made jokes about it. I am somehow mesmerized about the genre's weird cheap and showy peculiarities and I want to use the musical's characteristics to make satirical and political songs. There is a world of expression here that should be accessible for others than cheesy composers and their shallow lyrics. This is a duet sung by Nina and Michael with a seemingly quite simple melody and with lyrics influenced by the apparently never-ending story of police violence, right wing supremacy and the Trump era.
Donkeyman
My father was a sailor and I was as a child intrigued by the donkeyman who had a special task on board: he was responsible for the greasing of the engine. Scored for piccolo flute, marimba, guitar, bass and drums it has an interesting 3/4 rhythm with a certain Latin flavour as well as notes of Captain Beefheart. Drummer Ole Rømer suggested the syncopated drum pattern
Peter Edderkop
This acapella track sung by the vocal ensemble GLAS is build on a Danish children's song about Peter the Spider. In this context I have changed the meter to 7 and the lyrics addresses the #metoo discussions about bad behavior by men, especially unwanted sexual attention and harassment. Peter with his 8 arms is constantly caught in the act.
Petrified Heart
Yet another Beefheart inspired, jumpy reggaeish piece, displaying the incredible skills of guitarist Per Gade and Bent Clausen's wonderful marimba style
Crisis
Originally inspired by an all-time favorite record: Escalator Over the Hill, this tune involves a male/female duet, a new concept of drumming (dividing the drum set into three separate functions) and a textbook example of soloing on a modal harmony. I transcribed the solo by Ben Besiakov and you will find it on this page. The tempo changes into a James Brown-like feel.
Injection March
When I wrote this song, the whole world was waiting to get the injection and it is somehow outdated now as everybody has been offered the needle. The steady piano playing by Marie Louise Schmidt is inspired by another favorite record: Native Dancer.
Late Sequel
This bass tune was originally scored for me alone, playing on at least three tracks on top of each other. But during the days in the studio I realized that both sound engineer Thomas Vang and drummer Ole Rømer are skilled bass players, so we ended up with three bassists: Thomas on a Hoefner bass, Ole on a Music Man and me on my Brögger acoustic as well on a fretless Fender.
The Bat
I wrote this song for the remarkable singer Nina Baun again trying to challenge her outstanding talents by creating this melody line that goes thru almost any interval you can think of. Needless to say, Nina did this effortlessly. The lyrics are the story of the worldwide pandemic situation up until the second wave.
If I Fall
The final piece is a rearrangement of a tune originally written for the Klökkeblömst trio. The Danish title is hard to translate if you want the play on words: Så fremt I fald jeg falder. Another large ensemble song this showcases the strong voice of Anders Banke's tenor saxophone.